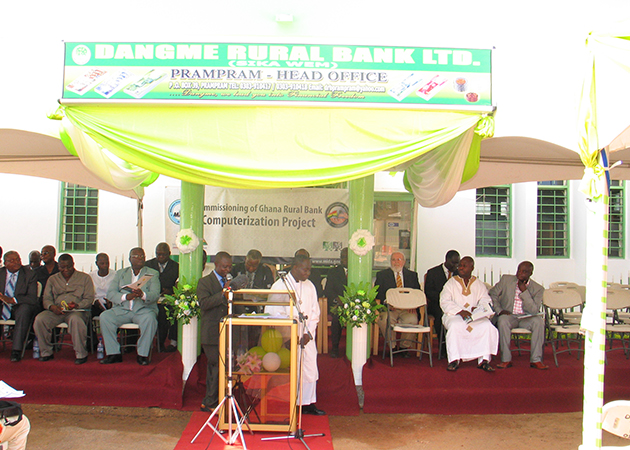 Notice of 28th annual general meeting of shareholders
Notice of 28th annual general meeting of shareholders
Mr. Chairman, Niimei, Naamei, Distinguished members of the Board, Management and Staff of the Dangme Rural Bank Limited, Directors and Staff of Sister Rural and Community Banks (RCBs), Shareholders, Personnel from the Press, Distinguished Invited Guests, Ladies and Gentlemen.
The Managing Director, Mr. Kwadwo Aye Kusi, should have been here with us but is engaged on another equally important assignment elsewhere. He sends his apologies for his inability to attend this AGM. I am, therefore, privileged and honoured to be nominated by him to be part of the 28th Annual General Meeting of the Dangme Rural Bank Limited. I bring you good tidings and warm felicitations from the Managing Director and thank you for this invitation.
Mr. Chairman, indeed, I am extremely delighted for the opportunity to address this august gathering of distinguished shareholders and personalities.
OPERATIONAL HIGHLIGHTS
Mr. Chairman, in respect of last year's results, I would like to applaud the Board, Management and Staff for a successful work. The profits achieved by your Bank last year and other healthy financial indicators, details of which are disclosed in the Annual Report, are sufficient evidence of effective and efficient management of the resources of this Bank. It is my hope that you will continue to chalk greater successes in the years ahead.
I wish to mention that the Dangme Rural Bank Limited was rated fair in the second quarter (2013) report of the Efficiency Monitoring Unit report of the Apex Bank.
Mr. Chairman, the aforementioned achievements notwithstanding, your Bank can do more by way of deposit and share mobilization; cost control and reduction; risk management and complIiance.
I will, therefore, respectfully urge the Board and Management to put in place new programmes and policies such as the following to sustain your operations:
1. Development of Microfinance Business
Mr. Chairman, one major area where RCBs can develop and create a unique marketing niche to strengthen their Banks is Microfinance business. Although almost all RCBs are operating some form of Microfinance, it would appear that we have the potential to achieve a lot more. It is time for the RCBs to re-think Microfinance given the proliferation of Microfinance institutions in their catchment areas and promote it to sustain their Banks. I will, therefore, urge you to deepen your Microfinance business to improve your overall results.
2. Risk Management and Internal Controls
Mr. Chairman, banking business has become very competitive and risky. Indeed, with the current pace of development in ICT, your Bank would no doubt be assuming additional risks and take on board new challenges. To minimize risk, there is the need for effective risk management at all levels of corporate governance.
I, therefore, advise that your board should institute a risk management policy to identify, assess, monitor and control operational and credit risks, among others. The
ARB Apex Bank will soon institute an ICT security policy that would ensure that risk associated with the implementation of ICT products are reduced to minimum. Three persons have been employed recently to commence work in Information Security for the RCB network.
Internal controls are designed to add value and efficiency to the Bank's operations by minimizing the incidence of irregularities such as fraud in our banks. There is, therefore, the need to strengthen your internal control mechanisms to ensure that adequate and effective measures are put in place to enhance standards and improve performance, for the attainment of the overall objectives of the Bank.
3. Staff Training
Training is critical in all institutions. On the-job and other forms of training expose staff to the details of daily banking operations and improves their confidence. This is one of the reasons why the ARB Apex Bank emphasizes all forms of training to prepare RCBs' staff to develop skills and competencies to confront the challenges of modern day banking, including providing financial services to the unbanked and underbanked in our catchment areas. With appropriate training in risk and treasury management, rural banks would be able to control the use of funds and limit default risk.
4. Product Development
As you may be aware, one of the primary responsibilities of the Apex Bank is to develop products for the Rural Banks. The ARB Apex Bank is commencing branchless Banking with the procurement of the Temenos Arc Mobile Platform.
One of the primary impediments to providing financial services to the poor through branches and other Bank-based delivery channels is the high costs inherent in these traditional banking methods. The amount of money expended by financial service providers to serve their customers with small balances and conducting small transactions is simply too great to make such accounts viable. In addition, when financial service providers do not have branches that are close to the customers, the customer is less likely to use and transact with their service.
Branchless banking (BB) represents significantly cheaper alternative to conventional branch-based banking that allows financial institutions and other commercial actors to offer financial services outside traditional bank premises by using delivery channels like retail agents , mobile phone, etc. BB can be used to substantially increase the financial services outreach to the un-banked communities.